Out of many submissions received from around the globe, three were chosen as the inaugural C3 Prize winners.
Learn more about the winners and their ideas below.
Winners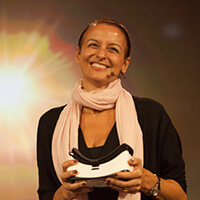 Grand Prize Winner
Diane Jooris, Brussels, Belgium
Oncomfort™
Diane Jooris is the co-founder of Oncomfort™, a health-tech company that uses virtual reality systems to help patients by providing anxiety and pain self-management tools.
Extensive research underscores the significant role that anxiety management plays in successful cancer treatment. Traditionally, anxiety treatment has relied heavily on medications. In contrast, Oncomfort offers a non-pharmacologic and more comfortable alternative to anxiety management through the use of immersive virtual reality modules.
"The C3 Prize provided my company with the resources needed to complete development of a new virtual reality module, as well as invaluable exposure for our idea. Being part of the C3 Prize has been such a rewarding experience that we plan to name the new module 'Stella' in honour of the company that made it possible."
Watch her 2016 application video.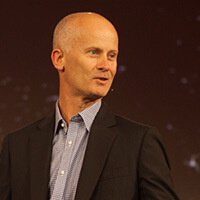 First Prize Winner
Mark Harrison, Melbourne, Australia
Australian Prostate Cancer Research
As CEO of Australian Prostate Cancer Research, Mark Harrison recognizes that for many men with prostate cancer—particularly those living in remote and rural communities—accessing appropriate support and clinical services can be challenging.
This knowledge inspired him to develop PROSTMATE™, one of the world's first interactive online systems designed to meet the needs of men with prostate cancer. A membership-based program, PROSTMATE provides a tailored experience to help men with prostate cancer get the information, support and tools they need to manage their disease.
"The C3 Prize, and particularly the membership to MATTER, has assisted us in the area of marketing and distribution of our platform to a diverse consumer base. By leveraging this expertise, we are building a distribution strategy that is significantly enhancing the reach and range of PROSTMATE."
Watch his 2016 application video.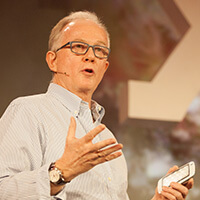 First Prize Winner
Larry Pederson, Seattle, Washington
The Litebook Company Ltd
As a longtime sufferer of seasonal affective disorder (SAD), Larry Pederson was driven to find a better solution for existing lightbox technology. In 2000, he founded The Litebook Company, a Canadian-based organization that invented a portable light therapy device called The Litebook®.
The Litebook holds promise for cancer patients suffering from the profound fatigue often brought on by chemotherapy treatment—a symptom that is similar in many ways to the feeling that results from severe jet lag. In much the same way that the Litebook can reset a traveler's internal body clock, the device has the potential to "reset" a patient's body clock and help to improve energy, sleep and overall quality of life.
"Grant funding and publicity from the C3 Prize are helping to raise awareness of Litebook as a simple tool to improve the quality of life for cancer patients undergoing chemotherapy. More specifically, funding is helping us implement an education and awareness campaign targeting cancer societies, oncologists' organizations and related cancer treatment entities, cancer research foundations and cancer patient support networks."
Watch his 2016 application video.